Christmas 2011 Mission to bring cataract surgery to the Thai-Burma border. Zeiss OPMI-1 microscope and MSICS combined with Vision Screen and Spectacles. Team Members: Jay and Kayla Rowe, Melissa Stevens, Elle and Bob Arnold. FBR head medic Iliya, FBR translator Dhee, and FBR transport Donny and Josh.
Team Newsletter pre | Follow-up Letter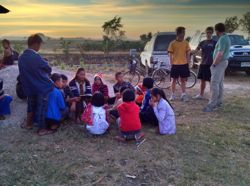 Smooth flights and all 8 packs made it through Seattle, Taipei, Bangkok and Chiang Mai. Met up with Ryans for more cataract details. Mitch was pleased with Melissa's attention to detail. Ranger Ranch after night market. On to MaeSot with Donny. We enjoys a pig roast with 400 Burmese worker familes with Gospel message delivered by our friends (Fairbanks) from Partners. Only prayer left when truck finally broke down on steep hill, then Oad and Pure stopped to help us, and then delivered us to Bueng Klueng and even helped in eye clinic. Screened several hundred patients but must await new spectacles- many patinets given IOUs. Four cataract cases completed in converted girls dorm of Bueng Klueng Christian School. Additional outreaches with childrens programs in Leh Tun Ku and other villlages.